Chairman's Desk!
Budge Budge Municipality is one of the oldest Municipality in West Bengal
( Established in 1900 A.D. ).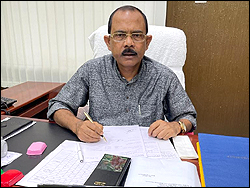 Initially an industrial town along the bank of river Hoogly and Eastern Railway track, it was a worthily industrial town recognized and nourished by the British Administration in its inception. With the passage of time the Board of Councillors of this Municipality has been trying its best to provide civic amenities to the satisfaction of the inhabitants of Budge Budge Town. This is our prayer to all the citizens of Budge Budge Town to come with us with grater expectation with a positive mind.The most effective and hi-tech implementing programme is e-Governance programme of Budge Budge Municipality under KUSP programme. By the help of this programme, this Municipality will be able to computerize all our services which are delivering to the citizens. The citizens will get instant and time consuming services from us. GIS is the another form of hi-tech programme. Recently inauguration of Computerization of Birth, Death and Cremation has been completed on 02-03-2010 and we are the 1st Municipality in South 24 Parganas District for the implementation of e-Governance.

We have already received the DPR for a project – 24 X 7 water supply scheme of Budge Budge Municipality with the sanction amount of Rs. 81.64 Cr. approved by the Central Sanctioning and Monitoring Committee, Ministry of Urban Development, Govt. of India in its 70th meeting held on 26/02/09 under JNNURM programme to provide treated surface water to the inhabitants of Budge Budge Municipality. In this scheme a dedicated water pipe line will be laid down directly from KMW & SA, Gardenreach to the underground reservoir at Budge Budge Municipal Hospital compound. One Underground Reservoir and seven Overhead Reservoirs will be constructed for the smooth supply of water to all the inhabitants of Budge Budge Town.

Rs. 88.70 lakhs has been approved out of 9 Cr. for the development for drain, roads etc. of Minority concentrated area. Rs. 32.76 Cr. has been approved for BSUP Phase-II scheme and work will be stating in the next Month. For the development of River Side Beautification, a work is running near the Jhautala Ghat, Ward No. – 2 and the total cost of the scheme is Rs. 2.4 Cr. The construction of 2nd Electric Crematorium of Budge Budge Municipality at a cost of Rs. 1.07 Cr. has been approved and work is in progress. We hope that the citizens of Budge Budge and its Neighboring areas will be benefited immensely after completion of the project.

An Auditorium cum Training Center is constructing near Subhas Uddyan at a cost of Rs. 1.52 Cr. A long expectation will be fulfilled for the citizens who are cultural. Municipality installed and unveiled the burst made of bronze of Sahid Khudiram Bose in ward no. 12, Poet Kazi Nazrul Islam in ward no. 17, Dr. B. C. Roy within Municipal Hospital Premises, Acharya Jagadish Chandra Bose and Poet Sukanta Bhattacharya within Municipal Office Premise.

A master plan of Rs. 60 Cr. ( approx. ) of Drainage system has been prepared and sent to the Govt. by this Board for the total changes of Drainage system of Budge Budge Municipal area. A slum development scheme is already running within the Budge Budge Municipal area by the KUSP and BSUP programme.

Work of Sewerage Treatment Plant ( STP ) is running with the project cost of Rs. 7.47 Cr. under Ganga Action Plan ( GAP ). For the clearance of solid waste from the house of citizens we are concentrating on door to door Solid Waste Management scheme. Besides that we have three ambulances for the prompt 24 X 7 service for the citizens.

We always aware of and trying to our best to continue this development scenario within this old town-Budge Budge.