Departmental Hierarchy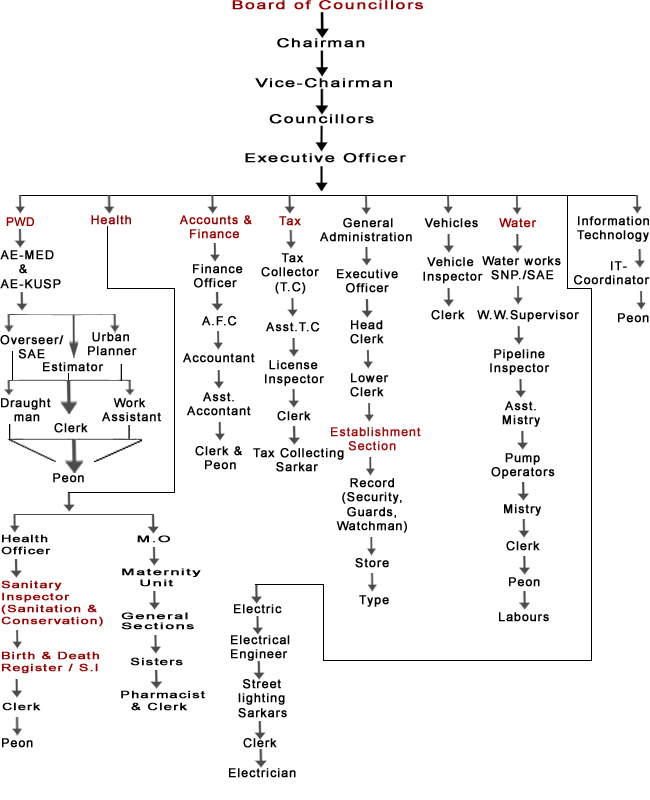 Accounts Departments
The Account Department of Budge Budge Municipality is mainly responsable for :-
1. Keeping the accounts of Municipality in accordance with the prescribed rules.

2. The checking with reference to rules or orders of West Bengal Municipal Act affecting the receipt and expenditure of Municipality.

3. Prompt settlement of proper claims against Municipality.

4. Compilation of budgets and monitoring budgetary control procedures as may be laid down in the relevant orders and
code of rules from time to time.

5. Generally discharging other accounting functions such as providing financial data for various reporting.

6. Seeing that there are no financial irregularities in the transactions of the Municipality.

Birth & Death
Computerization of Birth, Death and Cremation certificate has been developed and inaugurated in this Municipality.

It is one of the most vital services for the public. Every Births & Deaths within the Budge Budge Municipal jurisdiction are registered within
this department. Quick services for issuing Birth & Death certificate are the main motto of this department.

Functions of Establishment Departments
01.To keep Personal File of all Municipal Employees (Regular).
02. To maintain the Service Book of all Municipal Employees (Regular).
03. To prepare Annual Increment List of all Permanent Employees.
04. To issue retirement notice to the retiring employees.
05. To prepare report regarding Gratuity and Pension.
06. To forward Pension Papers to the office of the DPPG. to obtain Pension.
07. To give reply to the office of the DPPG against their observation, if any.
08. To maintain Appointment record, Promotion matter and Transfer matter etc.
09. To keep record in awarding CAS benefit to the Municipal employees.
10. To take Option Form and prepare IPF statement and prepare fixation of pay and getting it verified from the office of DLB.
11. To maintain Municipal staff strength including vacancy position.
12. To keep record in giving financial benefit/allowances as per Government order
13. To prepare file in Die-in-harness cases as per Govt. Order.
14. To prepare different letters in giving replies to the DLB and M.A Department.
15. To maintain the file of Govt. Officers like E.O, F.O, H.O, and the Assistant Engineer and prepare their working certificate.
16. To maintain Gradation List of the Employees.

Health
Health department of Budge Budge Municipality is rendering Preventive and curative Health services by a group of Health
personals needed by Health Officer.
A Message from Govt. Of West Bengal, Health Dept. -- > Click Here
National Filarial Prevention Programme --> Click Here
PREVENTIVE SERVICES
a) CUDP-III Project = Rendering Health awareness, MCH services, Family Planning services, Immunization services General Health check up in 6 sub-centres for 30,000 BPL Population by 38 trained Honorary health workers & Medical Officer through Health Administrative Unit in ward no - 4
Location of sub-centres
| | | | |
| --- | --- | --- | --- |
| Sub-centre | Address | Ward No | Clinic day |
| 1. | 4 No.Gate, Netaji Subhas Road | 1 | Saturday |
| 2. | Maulana Azad Road, HAU - II, IPP-VIII | 17 | Friday |
| 3. | Kalipur Birla New Road | 6 | Thursday |
| 4. | R.N.Tagore Road, Charial, HAU CUDP III | 4 | Thursday |
| 5. | Shib Durga Sangha | 11 | Tuesday |
| 6. | Sonali Sibir Club | 15 | Saturday |
India Population Project
a) Rendering Health awareness MCH services ,Family Planning services, Immunization services, General Health check up in 7 sub-centres for 35,000 BPL Population by 45 trained Honorary Health workers, Medical officer through Health administrative Units in ward no -16 & 17
Location of sub-centres
| | | | |
| --- | --- | --- | --- |
| Sub-centre | Address | Ward No | Clinic day |
| 1. | 16 M.N.Sarker Road. HAU | 16 | Wednesday |
| 2. | 16 M.N.Sarker Road HAU | 16 | Wednesday |
| 3. | S.N.Ghosh Road | 2 | Friday |
| 4. | Subash Uddyan Math | 10 | Monday |
| 5. | R.N.Tagore Road CUDP-III HAU | 4 | Thrusday |
| 6. | Bina Cinema, Near Municipal Pond | 18 | Wednesday |
| 7. | Sabuj Sangha Club | 7 | Monday |

CURATIVE SERVICES
1) ESOPD (Extended Specialist Out Patient Department)
Located in Budge Budge Municipal Hospital ground .10 specialist doctors ( Eye,Ent.,Medicine ,Skin, Paediatrics ,Dental, Gynae ,obstetrics Orthopaedics) rendering their specialist services from Monday to Friday 12 P.M – 5 P.M.BPL beneficiaries getting this specialist service at a cost.of Rs.15/00/visit
2) CLINICAL PATHOLOGICAL LABORATORY
Located within Budge Budge Municipal Hospital complex. Blood, Strol, Urine are regularly exam med by experienced Pathologist from Monday to Saturday etc minimum cost for the BPL family members.
3) REGIONAL DIAGNOSTIC CENTER
ULTRA SONOGRAOHY – Ultrasonography are being done by Wipro GE Machine Under Supervision Of experienced Sonologist on Tuesday, Thursday and Saturday from 12 PM to 5 PM at a minimum cost of Rs. 300.00 only.

XRAY - Xray services are rendering from Monday to Saturday 9 AM to 3 PM at a very low cost.
4) ROUND - O - CLOCK
24 hours medicine shop Round-o-Clock has been established in the Municipal Hospital complex.
5) MATERNITY HOSPITAL – located in the Hospital complex. Normal and Cesarean delivery are being done here. 15 nos. beds are here.
6) ANTENATAL OUTDOOR
Services offered for antenatal mothers from Monday to Friday at a cost Rs. 30.00 for the whole Antenatal period.
Maternity In door =
Normal delivery services open for 24 hours Caesarean section delivery also done at a very affordable rate.

7) ADOLESCENT HEALTH CARE PROGRAMME :- Adolescent Health Care Programme started from January / 07 and continuing .Total 5000 adolescent have been sensitized for 2 days and adolescent clinic runs at IPP-VIII HAU,Kaila Sarak every Monday 3 PM- 5 PM.
8) PRIMARY SCHOOL HEALTH CHECK UP PROGRAMME :- Total 41 Primary Schools have been identified for this programme .School teachers, guardians Medical personals have been trained. Medical team will examine all the school students of 40 schools once a year. Total programme will continue for 3 years. First aid box with necessary medicines will be provided to each school. Students will be referred to specialist clinic for specialist opinion and will get necessary medicines free of cost.

9) Janani Surakhya Yajona ( JSY ) :- JSY scheme are running and BPL Antenatal mothers are getting the benefit of this scheme for 1st and 2nd pregnency.

10) Ayushmati Scheme :- This scheme will functioning within a short time where BPL, SC and ST mothers will be delivered free of cost with medicine in our Maternity Hospital.

P.W.D.
PUBLIC WORKS DEPARTAMENT, BUDGE-BUDGE MUNICIPALITY AT A GLANCE
1. No. of slums : In Phase-I : 20
In Phase-II: 52
2. Projects running Under BSUP scheme : Dwelling House, Drain, Road, Pipe line, Community Seva Kendra, Community toilet.
3. Other funding source : SFC, NHDP, 11TH FC, TAX ON VEHICLLE, TRTP, 12TH FC, EG, BMS, SCRF, SPECIAL GOVT. GRANT, KMDA, BSUP, MINORITY, KUSP.

The Budge-Budge Municipality was established in the year 1900 A.D. and the Municipality is maintaining the Public Works Department (PWD) since its establishment. It is an Urban Local Body and controlled by the Municipal Affairs Department, Govt. of West Bengal. The Director of Local Bodies, State Urban Development Agency, Municipal Engineering Directorate, KMDA, KMW & SA, CMU/DFID are the supporting Department of the Urban Local Bodies.
The West Bengal Municipal Act, 1993, The West Bengal Town and Country (Planning and Development) Act, 1979, The West Bengal Land Reforms Act, 1976, The West Bengal Municipal (Building) Rules, 2007 and Others Act and Rules are the main guide line to run the Municipal Administration.
The Budge-Budge Municipality is a mixed used area in nature and this Office has prepared a land use map according to Act. The Municipal land (area 9.06 Sq.K.M., 20 Nos. Wards) are covered by 8 Nos. Mouza areas, namely Kalinagar Bade (J.L.No 7), Garbhukta Nandanpur (J.L. No. 8), Nijgorh (J.L.No.9), Joychandipur Chorial (J.L. No. 10), Joychandipur (J.L. No. 11), Banjonheria (J.L. No. 14), Banjonheria Chorial (J.L. No. 13) and Kalipur (J.L. No. 36) and these are within the jurisdiction of Budge-Budge Municipality. This Office maintained the Municipal Map, Ward wise Map, Mouza Map etc. carefully and upgraded it from time to time. Geographical Information System (GIS) is a new addition of the Municipality for keeping current information report.
The Public Works Department is the Nucleus of the Budge-Budge Municipality. Draft Development Plan (DDP) and Annual Development Plan (ADP) etc. are being prepared from time to time with a vision for development of this Urban Local Body. The Development Schemes are prepared according to the requirement of public requisition and in consultation with respect the Ward Councillors. The nature of development works are construction of different type of Roads, construction of Drainage system, Culvert, Guard Wall/Retaining Wall, Pilling Works etc. Surface water supplied from KMW & SA (Garden Reach) through distribution line and the line is being maintained from time to time. The related staff are always vigil about the water supply system. Recently, a scheme has been sanctioned to construct a UGR with 6 Nos. of overhead reservoirs etc., a dedicated pipe line from KMW & SA (Garden Reach) and it will fulfill the water crisis in different Wards within the jurisdiction of this Municipality. The construction of Deep-Tube-Well is a prohibited item of work in our area and Hand Tube-Well are not effective due to decrease of under ground water strata.
The Municipality has already constructed a Truck Terminal to avoid traffic jam, accident, and to reach the destination safely and smoothly etc. in time at A.M. Ghosh Road in collaboration with the Transport Department, Govt. of West Bengal.
The construction of Sewage Treatment Plant (STP) with Pump House is being made at Municipal land at A.M. Ghosh Road and near Queen Cinema to treat the drainage water before outlet to River Hooghly to avoid and prevent Ganga Pollution.
A Garbage Treatment Plant is being made at Municipal land at Trenching Ground to treat garbages collected from Door to Door collection, from local Market, Factories and Industries etc. under JNNURM Project with the help of KMDA and the Public Works Department is always working with the executing agencies.
This Municipality maintained eleven Free Primary Schools, Sishu Shikha Kendra etc. and the construction of the Schools and maintenance work made by the P.W. Department. The main target of P.W. Department is to construct a Community Hall-cum-Training Centre which is now being made at the own Municipal land at Subhas Uddyan. This Department is always maintained with its two stadium namely Subhas Uddyan where the football and cricket games run seriously.
There are so many development works made at River side, at Balu Ghat Point, Jhoutala Ghat, Thana Ghat and Cheviot Mill Ghat within the jurisdiction of Budge-Budge Municipality and the Public Works Department always take main roll for successful implementation of this stated development works. Every year we observe the "ARAYANNA SAPTHAYA" in the month of July and planted different kinds of saplings with a view to prevent air pollution.
The Public Works Department is always take part for improvemental works at Budge-Budge Municipal Hospital and Maternity Block and maintained the staff quarters etc. at Hospital Compound, Minials Quarter at Gate No. 6 etc.
The Public Works Department is take action about the sanctioning matter of Site Plan, Building Plan etc. and also take drastic action against the illegal and unauthorized constructions according to Section of the West Bengal Municipal Act, 1993. Land Survey Work is a part of P.W. Department which is required to develop the new road bye-pass road and to take appropriate action about the encroachment of Municipal land, Road flank, Drainage area and to take demolition work with the help of Police Station.
Drainage system is a main work of a locality and it is fact that the people uses the drain as dustbin. The public unauthorized uses the land of road flank and land of drainage area as shop/club/stall/party office etc. and it is a main chronic decease of our locality and it may minimize through public awareness/campaign. The Public Works Department is take part about the stated matter.
Service latrine is a band item of work in the Municipal area and before that this Municipality was taken up a schemes for removal of service latrine to pit privy and constructed near about 2,500 Nos. of pit privy in different holdings within the Municipal area. Recently, this Municipality has constructed 10 Nos. Community Latrine and two Nos. of Sulav-Sauchalaya in different areas to improve the health and sanitary facilities.
The Budge-Budge Municipality has constructed a Model Burning Ghat with a one sited Electric Crematorium and two Nos. wooden chully as substituted cremation with other modern facilities and the Public Works Department is a main "KARIGORH" about such type of development work. Recently an another Electric Furnace has been sanctioned in favour of Budge-Budge Municipality whose constructional work is running at present.
The Burial arrangement of this Municipality is in good condition where the burial of Muslims, Christan and Hindu communities are being burial carefully and successfully.
The Public Works Department on behalf of Budge-Budge Municipality is maintained a Slaughter House where the cow-slaughter and goat-slaughter are being made separately and carefully and the Public Works Department is maintained the stated arrangement.
This Municipality works previously on the scheme of Shelter for Shelter less and constructed 85 Nos. of dwelling house and recently constructed 100 Nos. of dwelling house under B.S.U.P. (JNNURM ROJECT).
Further it is stated here that a Municipality cannot run without Public Works Department. This Department run with the staff strength of Overseer/S.A.E., Estimator, Road Sarkar, Road Mate, Draftsman, Supervisor, Clerk, Road Roller Driver, Peon etc. and all these posts are vital and all staff under this Department are very sincere, careful, obedient and always serves their best efforts to help the rate-payers, Ward Councillors as well as Municipal authorities concern. Moreover the State Govt. is also create and sanction a post of Assistant Engineer in this Municipality to strengthen the staff strength of Public Works Department.
Hope the continuation of Public Works Department at Budge-Budge Municipality will run successfully in future.

Sanitation & Conservancy
Cesspool Cleaner :

General households and industries take this opportunity for immediate cleaning of their septic tank.
Solid Waste Management :
This Municipality is planning to work rapidly on this project as this is the neediest service for the citizens.
This Municipality will deliver two buckets for storing the waste that are coming out daily from the household,
shops etc. Everyday our Municipal conservancy staffs will go to each household/shops/industry to collect the
waste and drop out all the waste into the trenching ground of this Municipality. This Municipality will get 30
nos. Dumper Placer and 3 Nos. Placer Carrier for the SWM programme. We will be able to deliver this service
to all the citizens of our Municipality very soon.
Conservancy Work : It starts at 6.30am. in every ward of this Municipality and continue upto 7-8 PM.
Category of Work : Sweeping of street, sweeping of Municipal Schools, Door to door garbage collection
( Partially collection ), disposal of all garbage in the Municipal trenching ground. Urinal cleanup (public),
shallow drains cleanup, F.F. drain cleanup (as and when necessary basis) and disposal of dead crops.
Special Services rendered in every occasion, festival such as Durga Puja, Kali Puja, Id-ul-Zuha, Id-ul-Fitre, Maharam, Chhat Puja, Sitala Puja, Rathayatra (Kalibari), Christmas, Good-Friday, Rash Utsav, Mela etc.
Public Services from Health Department :

Burning Ghat :-Electric crematorium, Wooden chulli both are available for cremation of dead body. Burial
Ground :- Hindu, Muslim, Christan Bhrrial of dead body done in separate ground.
Slaughter House : Only veterinary doctor's certified cows are slaughtered in every morning
( except Thursday ).

Food License : New and Renewal license issued after proper inspection.
Law
The Following Works are to be performed by the staff of Collection Department
| | | |
| --- | --- | --- |
| ASSESSMENT DEPT | ACCOUNT MAINTAIN | COLLECTION |
| 1.General assessment (every after 5 years) U/S 110 of the W.B.M act, 1993. | 1.Demand & Collection Register(F-12) | Works (Manual & Computer) |
| 2.Amendment and alternation of Assessment list (U/S.114 of the said act). | 2.Abstracrct Demand & Collection (F-13). | 1.Presentation of Rate Bill U/S.149. |
| 3.Presentation of Bill U/S.149 of the said act. | | 2.Quarteley rate Collection through Issuance of F-10. |
| Works(Manual) | Works(Manual) | 3.Office Collection Booth Tax and M.R.F-39. |
| a) Preparation of Assessment Regester | a) Preparation of D.C Regester | 4.Outdoor holding wise Collection. |
| b) Preparation of Mutation Regester | b) Challan posting and Balancing. | 5. Arrear Demand collection. |
| c) Abstract of Demand | c) Posting Verification. | a) Issuance of Notice of Demand U/S 151. |
| d) Imposition Occupier Tax & Surcharge. | d) Maintain Rent Ledger. | b) Distress Warrant issue upon the defaulters. |
| e) Mutation, Separation, Amalgamation of holdings. | | c) Execution of Distress U/S.153. |
| f) Preparation owener Tax & Occupiers bill. | | d) Action to be taken U/S,. 154 to 159 of the W.B.M act, 1993. |
| Works(Computer) | Works(Computer) | |
| | a) Receive Collection. | |
| | b) Maintain D.C Regester | |
| | c) Quarterly & Yearly Statement of demand Collection. | |
| | d) Printout of D.C Regester (Yearly). | |
| | e) Abstracrct Demand & Collection (F-13). | |
LICENSE
| | | |
| --- | --- | --- |
| 1) Certificate of Enlistment register maintain year wise. | 1) Tax on Carts carriages | 1) Tax on Advertisement U/S, 122 to 126 of the W.B.M.Act, 1993. |
| 2) Issuance of C.E, U/S, 118. | 2) Registration and numbering of Carts and carriages U/S, 127 to 130 of the W.B.M.Act, 1993. | |
| 3) Realization of fees (Arrear) U/S,153. | | |

Water
Budge-Budge Municipality has already imposed Water Charge to the Industrial and Commercial holding under the jurisdiction of this Municipality since 01/04/1991. But as regard imposition of Water Charge to the Domestic holdings the Municipality could not effect the same as supply of Water is not satisfactory to the entire Municipal area due to Low-Pressure. The Total Water Supply by this Municipality is received from Garden Reach Water Works of KMW & SA, so this office has to depend on KMW & SA regarding high or low- pressure supply.
2. Total O & M cost for Water Supply. (Rupees in Lakh).
| | | | |
| --- | --- | --- | --- |
| | 2006-07 | 2007-08 | 2008-09 |
| a) Salary & Wages | 57.52 | 64.13 | 35,70,673 |
| b) Electricity Charge | 2.48 | 1.23 | 1,61,193 |
| c) Maintenance Cost | 3.63 | 3.81 | 65,985 |
| Total = | 63.63 | 69.17 | 37,97,851 |
3. Total Collection by Water Works Department.
| | | | |
| --- | --- | --- | --- |
| 2006-07 | 2007-08 | 2008-09 | 2009-10 |
| Rs. 14,50,035/= | Rs. 18,58,434/= | Rs. 33,70,798/= | Rs. 27,80,998/= |
Pipe Length :
About 52 Km.
Existing Hand Tubewell :
23 Nos.
No. of Street Tap :
933 Nos.
No. of House Connection :
5965 Nos.
A: Domestic :
5946 Nos.
B: Non - Domestic:
19 Nos.
Total Water Supplied through Municipal Grid :
3.5 MLD
Pump House in Operation :
1 No.
Total No. of OHRs :
3 Nos. ( 2 Nos. non-functioning )
( Last updated 01/June/2010 )